How to Retain Your Top Therapists

Stefania Rossi, PB London speaker and winner of our Employer of the Year 2016 Award, reveals how creating clearly defined career objectives for staff helped her salon Utopia go from strength to strength
Stefania Rossi, director of Utopia Beauty and Advanced Skincare in Hornchurch, PB London speaker and winner of the Professional Beauty Employer of the Year 2016 Award, reveals how creating clearly defined career paths for staff helped her beauty salon Utopia go from strength to strength.
Taking over a struggling business and transforming it into an award-winning salon in less than two years took a lot of passion, belief and commitment. However, this is a very rewarding journey that I've shared with my dedicated team who, to this day, continue to successfully grow and develop the Utopia brand.
Maintaining the same team in this process can be very challenging, with limited promotional opportunities to progress their careers. So, how do you inspire and build loyalty among your team so that they will stay with you?
There is no one-size-fits-all formula that fits every business. However, building a motivated and sales-driven team, who want to progress and grow with your business, can be very rewarding and it's critical to recognise, at all times, what your talented therapists are worth.
You need to understand what makes them tick and what they value the most in order to get the best out of them. Empowering employees is about making time for them so that they feel confident in their abilities. We have a calendar of events throughout the year which we all look forward to; our team building activities can be anything from Spa days out, restaurant meals, weekends away).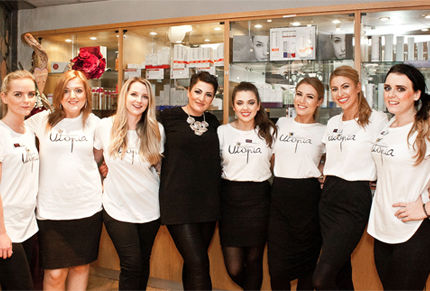 Sharing your vision for the business with the team will also make them fully involved in the success of the salon, as it makes them feel inspired and motivated.
I have regular 1-2-1 meetings with the team and monthly team meetings to ensure that everyone is involved and up to date with our business plans, and so that they feel 100% part of the business.
Also, look to breed loyalty by providing an environment where staff training and development opportunities support building team confidence and knowledge.
I work closely with our brands so that the team receives continuous training updates, and I make sure I spend time with my team so that they feel confident in their abilities.
In my talk at Professional Beauty London in February I will share the approaches I've used in my salon to structure career paths at all levels for staff, as well as my top tips for motivating them and breeding loyalty.